Yard Maintenance Calgary Calgary
Canada Yard Pro Calgary Yard Maintenance Calgary: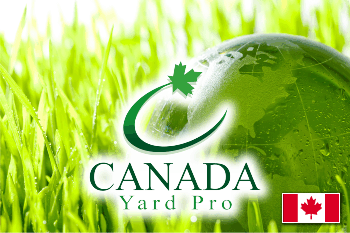 Weekly Lawn Service
Let Canada Yard Pro book a regular lawn program for you, typically the same day and time every week. The cuttings are bagged and left to correspond with your garbage collection day for curbside pick-up.
Power Raking / Spring Clean-up
Begin the growing season off right by giving your lawn our Power Rake / Spring cleanup service. Our workers begin by using Backpack Blowers to blast out Winter time Debris and Leafs from your flower gardens, fencing and deck lines. (Keep in mind flower gardens having Bark Mulch or Wood Chips can be only lightly blown to avoid blowing out the Mulch or Chips) We then go over your grass with a Power Rake getting rid of the upper covering of thatch this makes it possible for your lawn to breathe and for water and Fertilizer to get down to the soil not just be soaked up by the thatch layer. Then we hand rake the grass, bag all the debris and thatch. The last action is to deliver your lawn its first cut and trim this likewise enables the mowers to grab all the fine waste leaving your yard with a fresh and tidy appearance. This is optimum occasion to over seed your yard since the Power Rake has exposed the soil were the grass seed needs to be to sprout. (Power Rakes do not scrap dead areas from pets this has to be performed by hand and is a separate service).
Lawn Aeration
We look at your entire yard with an Aeration machine that takes out core plugs of grass and soil. This process allows your yard to best absorb and retain moisture whilst decreasing the number of times you will have to water. It is a good strategy to match this service with a Power Rake the Power Rake will fragment many of the Core plugs so that they are not all around your lawn. We do not gather up core plugs they easily deteriorate or a Power Rake will hasten the process and fracture them up right away.
Lawn Fertilization
Lawns demand more than just water to be healthy and green. Canada Yard Pro utilizes our own Pure Grow TM. 100% Organic and natural fertilizers that provide all of the crucial nutrients your grass requires all through the year.
We provide a seasonal program that will leave your lawn healthier and vibrant, and will prep it to remain that way amid the winter time months. Canada Yard Pro believes we possess the best fertilization program at any cost.
Over Seeding and Dog Patch Repair
Over Seeding is a technique of dispersing lawn seed throughout your lawn to improve the fullness of the grass. Pet patches should be scratched up by hand then a coating of top soil is added and then finally they are re-seeded. To guarantee the Seed has the capacity to sprout the customer must make sure the patches are adequately watered till the new grass is established. Canada Yard Pro solely uses premium grass seed for both of these treatments.
Eaves troughs Cleanup
Canada Yard Pro recommends having your eaves troughs cleaned out once every 2-3 years. If you have larger trees that overhang your rooftop, you might need your eaves be cleared up more frequently. Left untreated, eventually your eaves troughs are going to fill with crud and clutter inducing them to pull away from the roof. This may help water to permeate into the wood of the roof and walls, potentially resulting in rot and unhealthy moulds to grow.
Landscaping & Sod
Canada Yard Pro's team would definitely be glad to meet with you and help with your yard creation concepts. Together we can certainly serve to help you determine exactly what would best satisfy your needs and budget.
Fall Cleanup
This service incorporates the clearing up of fall leaves and waste, cutting down your perennials and extracting annuals from your garden. Any debris and trimmings are bagged for you and left behind for your curbside garbage removal, or could be taken away upon request at an additional charge of $3.50 per bag.
Irrigation Systems
Canada Yard Pro completes everything from springtime start up's of in ground landscape sprinkler systems including things like a complete check of your system, to fall blow outs. Considering installing a buried sprinkling system Canada Yard Pro performs entire setups of all new systems and repairs of existing systems we supply Free Estimates.
Siding Power Wash
This particular service should really not be missed! Dust, soot, and additional harmful pollutants stick inside your vinyl home siding or stucco, and might possibly lead to significant replacement costs. Canada Yard Pro uses specially produced cleaners that serve to remove this dirt from each of the crevasses. We then wrap up by supplying your whole house a high pressure wash making it look cleansed and new. (Note no cleansing products will get rid of oil derived stains in vinyl siding).
Canada Yard Pro Calgary Services Include: